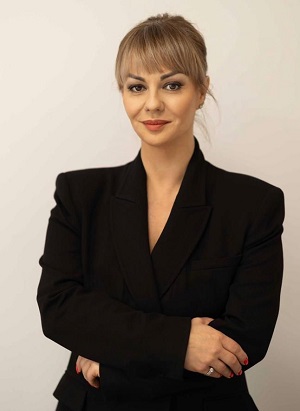 Mrs. Arta Balaj was born in Prishtina, in 1979.
She completed her primary and secondary school in Prishtina, finished Bachelor's and Master's studies at the Faculty of Journalism and Political Sciences, University of Warsaw, in Poland (1999-2004).
She also specialized in political marketing and public relations at the same university.
Her more than 20 years of experience combines the practicalities and performance pressures of the private sector, as well as the administration, management, and accountability which are required in the public sector.
Mrs. Balaj's professional career began during the last Kosovo war in 1998-1999, where she worked as a correspondent for the Polish State Information Radio and Television. She volunteered and assisted the Polish government, UNHCR and the Polish Red Cross in transporting Albanian and Roma refugees from Macedonia, establishing refugee camps in Poland.
In 2006, she worked as a business development and marketing specialist for the American firm "World Strategic Initiatives" in the United Arab Emirates. She came back to Kosovo after a year, and engaged as an international political analyst with UNMIK. Furthermore, she continued her career in the private and banking sectors.
Since 2010, through the project of UNDP and KFOS, she has been engaged as a consultant for public relations and marketing in the Cabinet of the Minister of Agriculture. This experience has opened the way to continue her career in international consulting projects with DANIDA, USAID, the European Commission and with her private company as well, mainly in the field of public relations, marketing, administration and project management.
Since 2015, she has been the Chief of the Cabinet o of the Constitutional Court's President of the Republic of Kosovo.
Mrs. Arta Balaj currently holds the position of Director of the Department of Culture in the Municipality of Prishtina.
E-mail: arta.balaj@rks-gov.net
Phone: 038-226-417
Directorate of Culture
The Directorate of Culture, within its competences and authorizations,it is responsible and carries out planned activities, guided by the local and cultural resources of the Municipality of Prishtina;
Plans and proposes the budget accounts of the directorate, within the organization of the municipal administration budget;
Organizes and ensures to mark important dates, and those with historical values;
Organizes debates with civil society and state members, in order to advance, develop and promote culture;
In accordance with the legal responsibilities, he leads: Dodona Theater, Municipal Library "Hivzi Sulejmani", City Stadium etc;
Compiles, reviews and changes the juridical actions of civil-legal relations, regarding cultural objects in the Municipality of Prishtina;
Cooperates with the Ministry for realization of projects in the field of culture;
Takes care about the cultural and historical heritage of the Municipality (religious buildings, institutional facilities and residential homes of historical and architectural value) and other structures that testify history as historical material resources. The Directorate of Culture, together with MKRS and donors, care for their maintenance and restoration,in accordance with the cultural assets identification of the Municipality of Prishtina
Promotes and encourages cooperation with other cities of the Republic of Kosovo and other countries, in accordance with the policies of the state of Kosovo, in order to enable a genuine integration of cultures and exchange of experiences in the interest of cultural development;
Researches and provides support for clubs and associations as well as individuals with special creative skills in the field of culture, and gives them support,with full transparency and without discrimination
Performs other work, according to applicable laws within the area of ​​activity of the Directorate,
For the purpose of exercising the functions defined by the legal provisions in force, the Directorate of Culture is organized in these sectors:
1. Sector of Culture;
2. Sector for Tourism